Upcoming Activities
26 February 2021
by Jonathan McFall Community Relations Director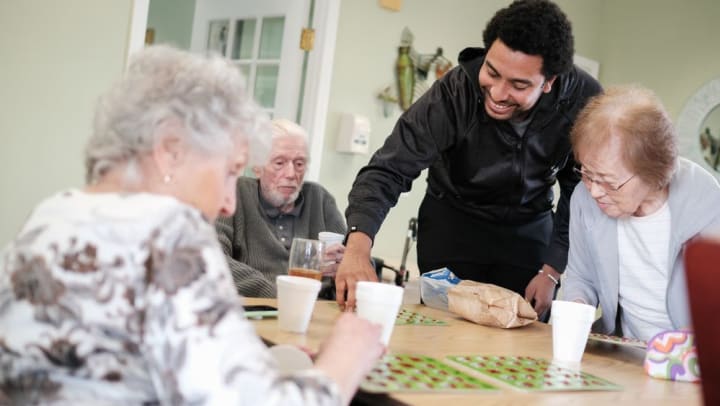 Upcoming Activities
To Residents, Family and Friends of the Gardens:
As we head into spring, we are excited to announce that limited activities will begin again at the Gardens.  Some dates to keep in mind:
Women's Day – March 8th — "Rosie the Riveter" photo shoot.
St. Patrick's Day – March 17th — St. Patrick's Day baking showcase, live musical entertainment, and green beer!
Easter Day – April 4th – more details coming soon.
Please check our Facebook and Instagram for pictures and videos.  Be sure to check for recent content posted from our Valentine's Day celebration and Mardi Gras festivities.
Also, we would like to congratulate Dolores Santamaria on her promotion to Activities Director.  Dolores has been employed at the Gardens for over a year and brings years of activities experience with seniors in various capacities.
We would like to thank the outgoing activities director, Lilian Stansi, for her contributions and commitment to the Gardens and its residents over her tenure here.  Lilian is moving out of the area.  We will miss her and wish her the best in her new endeavors.
As a friendly reminder, we are still limiting in person visitation for family and friends.  If you wish to visit the community please contact Dolores, by dialing (818) 787-0462 or email activities@parkbalboa.com, to set up a date and time to see your loved one.
Lastly, we would like to remind all residents, families, and friends that our second vaccination date will take place on March 6th, from 10am-2pm.  If you have not already done so, please fill out a consent form.
by Jonathan Mcfall,
by Community Relations Director
The Gardens
at Park Balboa
7046 Kester Ave
Van Nuys, CA 91405
Office Hours
Monday - Sunday: 9:00am - 5:00pm
Tel. (818) 787-0462
Fax (818) 787-7472