Some Exciting Activities Coming Up to Announce
17 July 2021
by Jonathan McFall Community Relations Director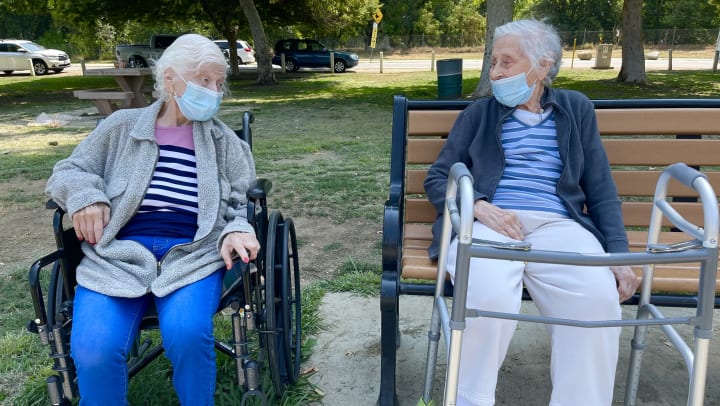 The Gardens at Park Balboa Update
Dear Gardens Residents, Families & Friends,
We have some exciting activities coming up to announce:
Cell Phone 101 with Kim – Weekly classes with our social media director, where residents can receive assistance with their smart devices; cell phones, iPads, tablets, etc.
We have begun weekly cooking classes; from guacamole to quesadillas to freshly made smoothies, this interactive cooking class gives an opportunity to all residents to make their own delicious food. Yum!
For our Safe Haven residents and families, we have started doing outings again! This last week we went to Balboa Park and we are planning an excursion to the beach and other fun destinations!
We are excited to announce the return of worship services to the community, led by Grace Community Church.
On July 29th, Assisted Home Health will be visiting the community to offer our residents free walker, wheelchair and cane tune up and repair, free of charge.
Upcoming August events feature our Summer Luau. Stay tuned for more details.
The Gardens at Park Balboa recognizes there is a spike in community transmission of the Delta Variant. As a reminder, masks are still required at the community, along with proof of a negative COVID test or proof of vaccination upon visiting. Thank you for your continued support in keeping our residents and staff safe.
Sincerely,If you have questions or if there's anything with which we can help, please feel free to call. We are here to serve you!
Jonathan McFall
Community Relations Director
by Jonathan McFall
by Community Relations Director
The Gardens
at Park Balboa
7046 Kester Ave
Van Nuys, CA 91405
Office Hours
Monday - Sunday: 9:00am - 5:00pm
Tel. (818) 787-0462
Fax (818) 787-7472