Weekly Update Letter (Drive-By Art Show)
23 October 2020
by Jonathan McFall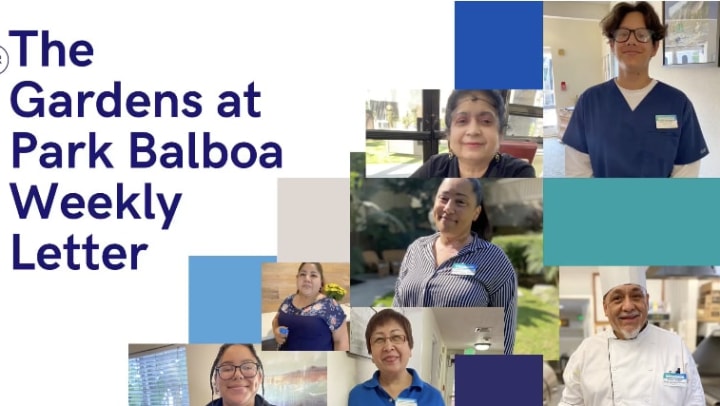 Weekly Update Letter and Video
Dear Gardens Friends and Families –
Thank you for continuing to trust us with the care of your loved one during the COVID-19 pandemic. We know this has been a difficult time for everyone, but we are committed to seeing it through and to remaining COVID free. We are still open to family visits with safety measures. All visitors must maintain 6 feet of distance, wear masks at all times and have temperature checks upon entering the community. Visits are limited to 20 minutes in our courtyard. Appointments must be booked in advance prior to visiting through our activities director, Lillian Staiti. Please call her to schedule a visit with your loved one. Again, please be diligent in practicing good hygiene as well as social distancing. Stay safe and take care!
On this Saturday October 24th from 10am-2pm, we would like to invite you to our "socially distanced" art show, featuring resident-made artwork and jewelry. We encourage family members to stop by to see what our residents have been working so diligently on. We hope to see you there!
Also, we are thrilled to announce live entertainment is back at The Gardens. This Friday we will be hosting an outdoor concert. Residents are encouraged to join from their balcony or in the courtyard (while maintaining social distance and wearing a mask). Our live performers will be "JustUs" (a Sonny & Cher tribute duo) playing 60's and 70's hits.
In addition, we are still in the process of re-opening our beauty salon. We are working with the Health Department on key safety measures for our residents and beautician including; routine testing, limited capacity, and PPE/Safety measures. We will continue to update you on the re-opening date as soon as possible.
Thank you to all residents and staff that took part in our flu clinic on October 13th. We are working towards having 100% of all staff and residents protected by this vaccine.
Please let us know if there is anything we can do. We are honored to serve you and your loved ones. To learn more about The Gardens at Park Balboa, please visit our website or call 747-233-5902
Sincerely,
by Jonathan McFall
The Gardens
at Park Balboa
7046 Kester Ave
Van Nuys, CA 91405
Office Hours
Monday - Sunday: 9:00am - 5:00pm
Tel. (818) 787-0462
Fax (818) 787-7472